NCH signed drain management program with Kitchen Valley (21 branches with more than 20 kitchens operated per each branch) The NCH Drain Management Program uses ecoSTORM, a microbial drain maintenance system that grows and automatically inputs bacteria suitable for food safetyNCH's eco-friendly products using microorganisms offer environmentally conscious and sustainable services that Kitchen Valley seeks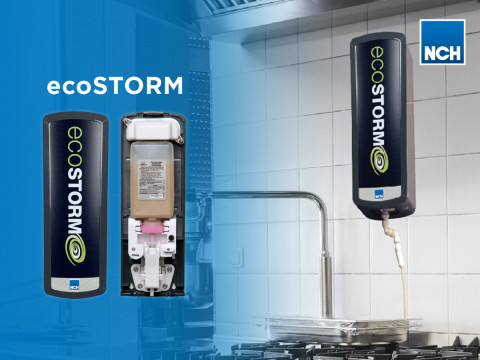 NCH Korea to introduce ecoSTORM-based NCH Drain Maintenance Program for Kitchen Valley shared kitchen facilities
SEOUL--(
Korea Newswire
) June 2, 2022 -- The world's leading industrial equipment maintenance, repair, and product manufacturer, NCH Korea (Junkyu Oh, Country Manager, NCH Korea), has announced that their microbial drain maintenance system, ecoSTORM was introduced to their client Kitchen Valley, a shared kitchen platform, with the goal to deploy ecoSTORM to all Kitchen Valley branches to effectively and efficiently maintain drain used in food and beverage shared kitchen facilities.
Kitchen Valley is the world's largest shared kitchen platform, with over 21 branches within Korea - with each branch boasting more than 20 individual kitchens. Kitchen Valley has long sought a single comprehensive solution to effectively and efficiently maintain the whole drain systems of all its facilities.
Kitchen Valley ultimately selected NCH Drain Maintenance Program that uses ecoSTORM, a microbial drain maintenance system that grows and automatically inputs bacteria suitable for food safety. NCH's drain maintenance products and programs are recognized for their safety and performance and are used globally by multinational companies based on NCH's drain maintenance experience and expertise. An NCH expert will regularly visit Kitchen Valley branches to confirm that equipment maintenance and operational quality are improved to minimize any complaints and claims by Kitchen Valley internal employees and facility users.
Manager Joo Hyun Park of Kitchen Valley's Facility Management Team said: "To preemptively manage and prevent problems, Kitchen Valley introduced NCH Drain Maintenance Program. The system provided by NCH uses microorganisms rather than chemical substances, making it an environmentally friendly product. It is the optimal solution for the environmentally conscious and sustainable services that Kitchen Valley seeks."
NCH's microbial drain maintenance system, ecoSTORM, is battery-powered and is easy to install and use - weighing only 1 kg with a very sophisticated design. The innovative automatic controller allows clients to preset to release 40 billion bacteria four times per day to facilitate drain maintenance - a total of 160 billion living bacteria per day, which represents at least 19 times more bacteria compared to rival products. The bacteria biologically break down fat and oil layers that cause clogs and back-ups in drains while also eliminating food remnants that would otherwise cause bad smells as they decay. Additionally, NCH experts will regularly visit to offer equipment checks and system maintenance services, including comprehensive service and performance reports and operational checks on a biannual basis. NCH's ecoSTORM can be deployed in normal drains, as well as a wide variety of specialized applications such as restaurant kitchen drains, coffee machines, carbonated drink drains, icemaking machine drains, wells, condenser drains, freezer drains, and more.
NCH was established in 1919 in Dallas, Texas, USA, and boasts a long history characterized by trustworthiness and the utmost commitment to safety, with technologies encompassing water treatment, plumbing, industrial maintenance, lubricants, and cleaning solutions - including biological technologies such as ecoSTORM. NCH has implemented each of these technologies globally for over fifty years, including at more than 10,000 power plants and other major facilities. NCH engineers have long been active in Korea, with over 30 years of experience with over 500 customer applications of plumbing, cleaning, and maintenance services and solutions.
이 뉴스는 기업·기관·단체가 뉴스와이어를 통해 배포한 보도자료입니다.
배포 안내 >