70K+ SKUs of pregnancy, maternity, and baby products from more than 400 popular international and domestic brandsitems categorized based on each stage of trimester to ensure an easy and convenient shopping experience for new mothers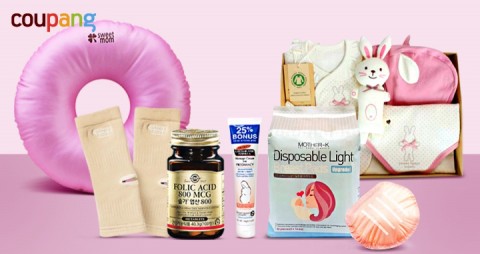 Coupang opens Korea's largest pregnancy and maternity specialty store
SEOUL--(
Korea Newswire
) October 11, 2017 -- Coupang, an e-Commerce company, plans to launch 'Pregnancy and Maternity Specialty Store' along with an instant discount promotion on Oct 10 in commemoration of Pregnant Women's Day.
The new shop called 'Pregnancy and Maternity Specialty Store' will be a one-stop destination for expectant and new mothers to discover around 70K+ listings of pregnancy, maternity and baby products at affordable prices. This is the biggest selection that a single category has ever offered in Korea.
Its merchandise consists of 400 or more reputable domestic and international brands including Green Finger, DoubleHeart, Mother-K, Palmer's, and Earth Mama - a good opportunity to meet overseas brand items that have only been accessible through direct purchasing or specialized baby boutiques.
Many brand-new moms want to know what needs to be done prior to their delivery and what products are must-haves. Every pregnancy and maternity product new moms might need - from early pregnancy products to newborn baby products - is classified according to the stage of pregnancy in the shop, which will make it easier and more convenient for customers to discover and purchase the product they want.
We're excited to offer customers a place to easily and conveniently discover a variety of pregnancy and maternity items at lower prices. We hope this shop could help lessen the burden of soon-to-be moms who have to buy baby products prior to their delivery and make their choices easier.
이 뉴스는 기업·기관·단체가 뉴스와이어를 통해 배포한 보도자료입니다.
배포 안내 >