Special event will celebrate 1 million downloads on Google PlayDifferentiated game characteristics and high quality contents help secure hardcore loyal users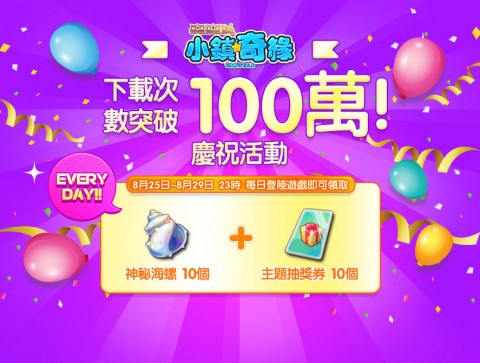 SELVAS Games is holding an event commemorating 1 million downloads of 'Town's Tale' on Google Play
SEOUL--(
Korea Newswire
) August 25, 2017 -- SELVAS Games, a mobile game developer, announced on August 25 that the cumulative number of downloads of its mobile social network game, 'Town's Tale,' on the Google Play Store topped 1 million.
'Town's Tale' has received favorable reviews thanks to its various contents and addictive storylines since it was launched in Android and iOS versions on May 24. The game has maintained the rating of 4.6 on average on the Google Play Store since its launch.
Men and women of all ages can play 'Town's Tale' easily as it is based on intuitive UI and various quests. Players can communicate with each other in real time. Its high-quality graphic art is realized in full 3D, and characters are lovely. In July, the theme update of Dream Amusement Park and the addition of a new content, which is constructing buildings with charming blocks, sparked tremendous popularity of the game.
SELVAS Games is celebrating 1 million downloads of 'Town's Tale' on the Google Play Store with a five-day event from August 25 to 29. If you just access the game daily during the event, you will receive 10 coupons for premium theme items and 10 summer-event conch shell items.
"I am happy to see the game secure hardcore loyal users for its differentiated game characteristics and high quality contents," Han Sang-sik, a SELVAS Games director, said. "We will keep paying attention to feedback from users and reward them for their ardent support. We will also try harder to provide upgraded fun and contents."
'Town's Tale' can be downloaded at the Google Play Store or the Apple App Store.
About SELVAS Games
Mobile game development company SELVAS Games has developed mobile games in various genres including FPS, SNG and mid-core RPG using its own development systems and specialized engineers. "Mini Motor WRT" has been played by 8 million users across the world. FPS "Fatal Raid" and SNG "Town's Tale" are among currently available popular mobile games that SELVAS Games developed.
이 뉴스는 기업·기관·단체가 뉴스와이어를 통해 배포한 보도자료입니다.
배포 안내 >