"Made a decision to run the Presidential Election for actualizing to construct Global Art Cultural City in the DMZ"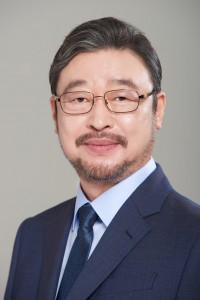 Kim Min Chan, Chairman of the World Masters Committee registered as a candidate in the Republic of Korea's 19th Presidential Election on April, 15, 2017. Candidate Kim Min Chan profile photograph.
(사진제공: 제19대 대통령선거 후보 김민찬 선거사무소)
SEOUL--(
Korea Newswire
) April 17, 2017 -- Kim Min Chan, Chairman of the World Masters Committee registered as a candidate in the Republic of Korea's 19th Presidential Election on April, 15(Sat.), 2017, at the National Election Commission office in Seoul. Candidate Kim Min Chan announced his decision to run in the election is based in part on actualizing his longtime goal of building a Global Art Cultural City in the DMZ.
While many professional politicians have registered as candidates for the 19th presidential election in the Republic of Korea, Kim Min Chan, founder and Chairman of the World Masters Committee, has earned a reputation for his tireless proponent of public and cultural diplomacy. The World Masters Committee, a non-profit NGO founded more than a decade ago, identifies and honors practitioners of traditional culture, folkways, and art; these Korea Masters and World Masters are celebrated and recognized at the World Masters Festival and Embassies Day in Seoul, a multi-day extravaganza in central Seoul organized by the World Masters Committee.
Kim Min Chan's political philosophy is expressed in his campaign slogan: "New Era, New Nation, New Person." He presents a clear vision of Korea standing at the nexus of the cultural interchange of nations, the center of a new world spirit for our fast-changing, interconnected times. His plan for achieving this ambitious goal lies in reviving our nation's spirit and recovering our lost identity as a culture of virtuous governance and tolerant ideology. Kim Min Chan's long experience in cultural diplomacy has shown him that the key to unlock this great rebirth is in recognizing and catalyzing the best aspects of Korean culture.
For Kim Min Chan, 'New Era' signifies the dawning age of global interconnectedness and ongoing cultural interchange. 'New Nation' refers to the central role our people should play in the international exchange of goods and ideas during these exciting, fast-changing times. The 'New Person' is the Korean who guides our Republic toward prominence and leadership among the great nations of the world.
4 priority principles to create a New Nation
Kim Min Chan sees 4 'priority principles' which must be addressed in order to create the New Nation: establishing fundamental security; enacting serious political reforms; engaging in beneficial international politics; and preparing for a unification of Korea on Korean terms.
Candidate Kim Min Chan explains his first principle, establishing fundamental security, as a response to the situation created by North Korea's nuclear weapon threats to Korean Peninsula. The most important qualification for the next leader of the Republic of Korea must be a commitment to establish the fundamental security of our nation.
He goes on to describe the importance of his second principle: a political post-mortem to determine where and how our system went wrong. The problems our Republic has faced in the past were not caused by the absence of great policy ideas, but by the absence of the will to enact and execute them. Just as one needs to clean and rejuvenate the soil in order to see a newly-planted tree grow, so too must we remove or improve our current failing systems and create for ourselves a way to execute bold and effective political policies.
He explains that his third principle, engaging in beneficial international politics, speaks to our need to create friendships based on understanding and respect. Kim Min Chan's extensive experience in cultural diplomacy will serve him well as he guides our relations with other countries in a direction more beneficial than what we've seen in the past.
Kim Min Chan understands that the eventual unification of Korea is something that must happen on Korean terms. To this end, he proposes the construction of a Global Art Cultural City in the Demilitarized Zone - an idea that has already attracted special attention. By building a sanctuary like the Global Art Cultural City atop a site noted for division and rancor, Korea will at last be able to put its scarred history behind it, and emerge reborn as a symbol to the world of the possibilities of peace and harmony. Moreover, the Global Art Cultural City will serve as the starting point for a unification driven by Koreans and Korean interests, even as it serves to narrow the gaps of understanding between Koreans in the South and the North. As a professional cultural diplomat, Kim Min Chan knows the powerful symbolic value of freedom and peace in overcoming divides between cultures.
In the New Era, the Ordinary citizen stands at the center of the revolution
Candidate Kim Min Chan is not a polished, trained politician, but like so many of the tens of millions of Koreans who have been battered by the policies and politicking of the professional government class, he is both politically aware and highly engaged. Mr. Kim sees it as his duty, as a citizen of the Republic of Korea - a citizenry with a bold legacy of speaking truth to power - to step into this maelstrom and run on a platform of change, reform, and the creation of a better society.
"Once the scars on the hearts of the Korean people are healed," he told a recent gathering, "we will unite as one as we awaken to the potential of our own strength, and the Korean people will face with optimism the current and near-term political, economic, and security crises that challenge our country." He continued, "The Citizens of Korea will lead our nation to its well-deserved place at the origin and center of a brand-new age."